Welcome to InfoPet
Please come in for information on cats, chickens, chinchillas, chipmunks, dogs, ferrets, fish, gerbils, guinea pigs, hamsters, horses, the parrot family, rabbits, rats, reptiles, and even birdwatching and hedgehogs. The border collie opposite has been well trained, and is very well behaved with cats and other pets.
The pet-friendly web site
On this web site you will find Advice on Animals , to help you choose and care for your pet. You can find summaries of articles from a wide range of sources, including veterinary and animal behaviour journals, in News and Research. You can also look at reviews of books on pets in Books on Animals, and there's a list of animal welfare organizations and other organizations of interest to pet owners in Useful Contacts. Holidays and Services gives information on pet friendly and birdwatching holidays and other pet services. Lastly, there's an In Memoriam for animals we have loved.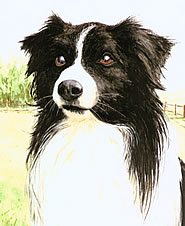 Border Collie by
David Paul Simon
Click here to read reviews of special books on Border Collies
Advice on Animals?
Click on: Birdwatching, Cats (including Choosing a cat, Cat's Behavioural Problems, Outdoor Cats, Indoor Cats and Raw Feeding for Cats), Chickens, Chinchillas, Chipmunks, Dogs (including Dogs' Behavioural Problems, and Dogs and Diet (canine nutrition), Dog Breeds and Breed Books, Puppy care and training, Dog Gardens and Dogs and Wolves ), Ferrets, Fish, Guinea Pigs, Hamsters, Hedgehogs, Rabbits, Gerbils, The Parrot Family, Rats or Reptiles and Amphibians.
Search the
InfoPet web site
Type in your search word here: