Reptiles and amphibians: Snakes and Lizards
See also:


Reptiles and amphibians: Tortoises, terrapins and turtles


Reptiles and amphibians: Amphibians


Books on Animals: Snakes


Books on animals: Lizards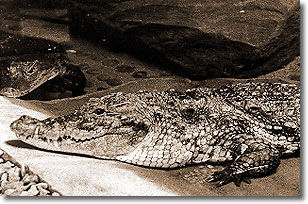 You need a Dangerous Wild Animals licence to keep some reptiles in Britain.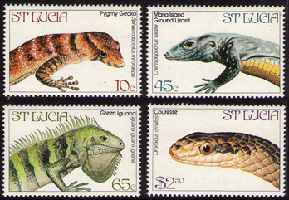 Please click here for more stamps showing snakes and lizards
Snakes and lizards are becoming increasingly popular as pets, and they are fascinating creatures. You can set up a rocky background, and imagine your lizard as a dinosaur, in a prehistoric setting. There's romance about a reptile, but you also need to be practical. These are generally high-maintenance, long-lived creatures. The equipment you need to house them and keep them at the right temperature can cost a lot and take up a lot of space. Large reptiles can defecate copiously and messily, and need a lot of cleaning. You need to have a special fascination for reptiles before buying one, enough of an obsession to put in the effort needed to keep them healthy. You'll also need to have reliable friends, neighbours or family members who'll help take care of your herps while you're on holiday.

Some snakes and lizards are easier than others, so if we haven't put you off yet, try starting off with the smaller and more placid types, like bearded lizards, and some of the chameleons and geckos. Green iguanas are handsome creatures, but they can grow up to six feet long, and be aggressive. And beware of being seduced by a Burmese python - it can grow up to 20 feet long!

Drool over the big beauties, but it also helps to think of what you're likely to be doing over the next few years, and whether you can take your reptile with you, or rehome it if you can't. Burmese pythons can live from 18-25 years, and royal pythons nearly as long. Big pythons are not always easy to rehome, nor are large green iguanas, or Bosc (savannah) monitors, both of which can live from 10-15 years. Corn, rat, king, milk and garter snakes can live up to 15 years. Smaller lizards, like agamas, bearded dragons, green anoles, and leopard geckos are relatively easy to rehome, and anyhow, anoles are quite short-lived, from 2-5 years, while agamas and leopard geckos can live from 8-15 years, and bearded dragons from 7-10 years.

Some novices accidentally buy one of the more challenging species, or a reptile that is illegal to keep in Britain without a dangerous wild animal licence, like a caiman. Reputable reptile specialists are the safest bet for buying healthy specimens, or fellow reptile enthusiasts whom you can trust. Reputable specialists can also provide advice whether a particular reptile is suitable for you, and on care and equipment.

You need to know what you are buying, so you don't accidentally buy one of the more challenging species, or a reptile that is illegal to keep in Britain without a dangerous wild animal licence, like a caiman. Reputable reptile specialists are the safest bet for buying healthy specimens, or fellow reptile enthusiasts whom you can trust. Reputable specialists can also provide advice whether a particular reptile is suitable for you, and on care and equipment.

Carnivorous reptiles are not for the squeamish. If you like small, furry creatures like hamsters and gerbils, remember that they are called 'dinner' in the vocabulary of a carnivore, and you may prefer to skip the section on 'feeding' on this page.
Housing and environment
Reptiles are cold-blooded, so they cannot regulate their temperatures. Most reptiles kept as pets come from areas with warm climates, so they need heating from a heat pad and/or other source. They also benefit from temperature variations so that it is cooler at night, as happens in the wild, and they need access to sunlight and/or have special lamps. Reptiles from tropical and semi-tropical climates have a special need for artificial light in Britain! Reptiles can burn easily, though, so put mesh screens on your lamps to protect your pets. You need a thermostat and more than one thermometer to control and monitor temperature variations in different parts of the vivarium.

Your snake or lizard will like to bask, but can easily get roasted. Keep a check to make sure it doesn't get too hot in the basking area. How hot is too hot? Bearded lizards, green iguanas and geckos like a maximum basking temperature up to 36 deg C, and Bosc monitors, royal and burmese pythons, and water dragons like up to 32 deg C. Agamas, green anoles, and house, king and milk snakes, need less heat for basking, up to 30 deg C. Corn, rat, garter and ribbon snakes need a 28 deg C basking temperature. Climbing reptiles, like panther chameleons, need spot bulbs rather than heat pads on the ground.

The background daytime temperature, ie not in the basking area directly under the bulb, should be around five to eight degrees cooler than the basking temperature, and the night-time temperature around five to eight degrees cooler than the background temperature in the day.

The best way to work out the ideal temperature ranges for your reptiles is to find out about their natural environment. Variations in temperature between seasons, and between day and night-time temperatures differ from one region of the world to another, so try to approximate their natural environment as much as possible. This also applies to the light that you give your herps - there is little variation between hours of daylight in summer and winter near the tropics, but far more variation in temperate regions.

Light and temperature variations are especially important for those species which hibernate in winter. You need to lower the temperature and cut down, then stop giving food if you want to prepare your reptile for hibernation. It's not always a good idea to let them hibernate though, and the decision depends on their condition. Young reptiles and those that are underfed shouldn't be allowed to hibernate, nor should new specimens, or those that have been ill for any reason.

Reptiles found in deserts and other dry areas in the wild, such as agamas, bearded lizards, Bosc monitors, and green anoles, need a dry environment in captivity, though they can suffer from dehydration, and should always have access to water. Species from jungles and aquatic environments, like iguanas, panther chameleons, and water dragons, need more humidity, and are especially vulnerable to dehydration if subjected to central heating, with no chance to moisten their skins. You can use a mister with tepid water to boost humidity levels. Panther chameleons may only drink from the water you provide through misting, so it's especially important for them to mist the tank regularly, at least twice a day.

All snakes and lizards need access to drinking water, and some species, like Bosc monitors, garter snakes, green iguanas, and Burmese and royal pythons need larger containers with bathing water. Others, such as water dragons, also need to be able to swim. Reptiles will both drink from, and defecate in their bathing water, so you need to check that it's clean, and change it regularly - and have very good friends you can trust to do this when you go on holiday.

You can use mixed peat and sand, sand and birdgrit, wood chippings or newspaper for substrate (bedding) for dry land species, with some shady areas with damp moss for species needing humidity. Some species benefit from bird sand or grit, as a source of calcium. Do clean whatever you use regularly, and use filters to keep water clean for species that like to swim.

Most reptiles need hiding places, so put plants, ceramic drain pipes, tree bark, and other cover in their vivarium for them to hide behind or under. They may suffer stress if they are exposed to view all the time, and this is especially true for new acquisitions. Let them gradually get used to their new environment. Give them some peace at first, and they'll be less likely to dart away and hide when you approach.

Chameleons, anoles, and some geckos like to climb, so need height in their vivarium, and tree branches to climb on. Climbing lizards and some of the smaller snakes, like garter snakes, are very good at escaping, so it's worth keeping them in a room that's secure, as well as ensuring their vivarium is secure.

The size of the vivarium is important. It should be big enough to allow your reptile plenty of room to move around after it has grown, so check how big it will grow. If you don't have much room, stick to smaller lizards, like anoles and agamas, which only reach around seven inches (18cm), leopard and day geckos which reach around 10 inches (25cm), and bearded dragons and blue tongue skinks, around 18 inches (46cm). Panther chameleons can grow to some two feet (63cm), and water dragons to three feet (92cm). Little hatchlings of larger lizards can turn into monsters, and they can grow very fast. Bosc monitors can grow to around four feet (1.22 m), while green iguanas can grow to up to six feet (1.53m), though five feet is more common. Garter, ribbon and house snakes don't usually grow much more than three feet (92cm), while royal pythons, king, milk, and corn snakes can grow to some six feet (1.53cm), rat snakes to some eight feet (2.1m), and Burmese pythons can reach a length from 16 feet (4.9m) to 20 feet (6.1m). One reason why reptiles are often abandoned in Britain is that owners have simply run out of space to house them!
Feeding
As a general rule, iguanas are mainly vegetarian, though most lizards and snakes kept in Britain are mainly carnivorous, and there are a few lizards which are omnivores.

Vegetarians, such as green iguanas, eat mainly green foods like turnip greens, Chinese lettuce, clover and dandelion leaves, with some mushrooms, legumes or chick peas for protein, and a little wholemeal bread or grain with bran for fibre. They can eat fruit, such as grapes, kiwi fruit, and oranges, but in a lower proportion than green vegetables. Feed brassicas, beets and celery only very sparingly, and not often.

Bearded dragons and blue tongue skinks are omnivores, partial to fruit and vegetables, as well as mealworms, frog, birds, and any other small creatures they can get in their mouths. Carnivores and insectivores include agamas, Bosc monitors, geckos, green anoles, and water dragons, which like mealworms, crickets and earthworms. Monitors will also eat mice, rats, birds, frogs and lizards. Water dragons follow a similar diet, and especially like their food to be alive when they eat it! Garter snakes like molluscs and fish as well as earthworms, lizards, and raw beef. Corn, rat, house, king or milk snakes, and Burmese and royal pythons, like to eat mice and rats, and large pythons are also partial to poultry. Take care not to overburden a carnivorous reptile's digestive system with too much fatty food - fat trimmings from human meals are not suitable titbits, however much your herp relishes them.

Some reptiles, such as Burmese pythons and Bosc monitors, will swallow whatever you offer them, and can easily get too fat, while you may have trouble tempting other species to eat - royal pythons are especially difficult to feed, and green iguanas can get a bit picky.

You can buy 'pinkies' (newborn mice) and 'fuzzies' (older baby mice) from specialist dealers, who will also sell you other reptile food, like live crickets. Don't leave crickets and smaller lizards together unattended - crickets can eat smaller lizards, if the lizards don't get them first! You may also need to provide vitamin and calcium supplements, which again you can buy from specialist dealers. Generally, live food is preferable to 'dead' food, and the wider a range of live food you feed, the less you need to supplement with vitamins.
Health
Diet and temperature are crucial for keeping snakes and lizards healthy. Make sure food is fresh, and in the right proportions, removing stale food at least once a day, preferably twice. Avoid the temptation of feeding your pet unsuitable human food titbits, like bits of chocolate and crisps, even if these are consumed avidly. The right temperature is important if you want to avoid feeding and digestive problems - most reptiles tend to go off their food if they are too cold, while over-heated reptiles will be too uncomfortable to digest food properly. You need to watch the temperature at night if your reptile seems to have respiratory problems, and take especial care that it doesn't fall too much.

It helps to find a vet with an understanding of reptiles before your herp falls ill, since reptile vets aren't always easy to find in an emergency. Reptiles will need to see a vet if they are off their food for no clear reason (such as hibernation or shedding skin) and appear to be losing weight, wheeze or blow bubbles, pass blood in their stools, or suffer damage due to attacks from other animals.

Cats and dogs and reptiles should be kept apart, even if they initially appear to get on - one or the other is likely to suffer injuries, especially if they are left together unsupervised.

Hibernating species need special care to ensure they survive hibernation. Their immune system will not protect them as well while they are in deep hibernation sleep, which is why they should not be allowed to hibernate if they appear to have infections of any kind.
Hygiene and handling
There are risks to humans from certain types of salmonella harboured by reptiles. As a general rule, reptiles should not be kept in households where the human inhabitants are very young or very old, so more susceptible to infection. Always wash your hands after handling reptiles. Don't keep reptiles in the kitchen or dining area, or clean their housing in the kitchen - ideally, you should use an outside tap. If you have to use the bathroom to wash reptile equipment, disinfect the basin/bath with bleach afterwards.

Some snakes and lizards are more likely to bite and are generally more aggressive than others. If you are a novice, it is best to avoid these species, and if you own one of them, it's best not to startle it by making sudden movements close to it that it could see as threatening. Young children and large, aggressive, lizards are obviously not a safe mix. Anyone handling a large lizard needs to learn lizard body language so as to recognise a threat display - puffing up, hissing and tail thrashing are generally warning signs. Green iguanas and Bosc monitors can give nasty bites, whereas bearded lizards and blue tongue skinks are safer. Some of the smaller lizards, such as green anoles and geckos, should not be handled at all, since it's too easy to damage them.

It's best not to handle any new reptile in your collection for at least a couple of days, to give it a chance to settle in. Try to be patient and let your herp get used to you being near, before you try picking it up. If you pick up a new acquisition of a species likely to bite, hold the herp behind its head with one hand, giving support to its body with the other, and use thick gloves.
Breeding
All herps tend to breed more freely if you can mimic seasonal variations by adjusting hours of light and temperature. Smaller lizards and snakes tend to be easier to breed than the larger species. You may need to supervise mating encounters, to be able to separate the couple in case of fights. There is really no need to try to breed larger lizards, since there are enough unwanted large specimens in Britain. If you really want to add another large lizard to your collection, you could try adopting one from a reptile welfare organization. Alternatively, try advertising to see if anyone has a lizard they no longer have room for, though you may need to work hard to persuade any humans you share your home with that it's a good idea to fill it with large lizards!
Further reading:
Ackerman, Lowell (1998)

The Biology of Reptiles: Health Care

, TFH Publications.

Ackerman, Lowell (1998)

The Biology of Reptiles: Husbandry

, TFH Publications.

Ackerman, Lowell (1998)

The Biology, Husbandry and Health Care of Reptiles: The Biology of Reptiles

, TFH Publications.

Arnold, E.N., Burton, J.A. and D.W.Ovenden (1999)

Collins Field Guide: Reptiles and Amphibians of Britain and Europe

, Collins.

Bartlett, A.D. (1997) Anoles, Basiliks and Water Dragons, Barron's.


Bartlett, R.D. (1999)

Terrarium and Cage Construction and Care

, Barron's.

Bennett, Daniel (1995)

Little Book of Monitor Lizards

, Viper. Beebee.

Trevor and Richard Griffiths (2000) New Naturalist: Reptiles and Amphibians (The New Naturalist) Collins.

Cooper, Paulette (1995)

277 Secrets a Snake Wants You to Know: Unusual & Useful Information for Snake Owners and Snake Lovers

, Ten Speed Press.

Davies, Robert and Valerie Davies (1997) The Reptile and Amphibian Problem Solver: Practical and Expert Advice on Keeping Snakes, Lizards, Frogs and Other Reptiles and Amphibians, Tetra Press.

de Vosjoli, Philippe (1991)

The General Care and Maintenance of Burmese Pythons/Including Notes on Other Large Pythons

, The Herpetocultural Library (Advanced Vivarium Systems).

de Vosjoli, Philippe (1997)

General Care and Maintenance of Bearded Dragons

, The Herpetocultural Library (Advanced Vivarium Systems)

de Vosjoli, Philippe, Brian Viets, Ron Tremper and Roger Klingenberg (1999)

The Leopard Gecko Manual

, The Herpetocultural Library (Advanced Vivarium Systems)

Halliday, Tim (Editor), and Kraig Adler (Editor) (2002)

The New Encyclopedia of Reptiles and Amphibians

, Oxford University Press.

Hatfield, James (1996)

Green Iguana: The Ultimate Owner's Manual

, Dunthorpe Press.

Klingenberg, Roger (1993)

Understanding Reptile Parasites: a Basic Manual for Herpetoculturists & Veterinarians

Advanced Vivarium Systems.

Mader, Douglas (1996) Reptile Medicine and Surgery, Saunders.


Mattison, Chris (1996)

Keeping and Breeding Lizards

, Blandford.

Mattison, Chris (1998)

Keeping and Breeding Snakes

, Blandford.

Mattison, Chris (2002)

The Encyclopedia of Snakes

, Cassell.

McKeown, Sean (2000) The General Care and Maintenance of Day Geckos, The Herpetocultural Library (Advanced Vivarium Systems)


Palika, Liz (2000)

Your Bearded Dragon's Life: Your Complete Guide to Caring for Your Pet at Every Stage of Life

, Prima Lifestyles.

Rossi, John and Roxanne Rossi (1996) What's Wrong with My Snake? Advanced Vivarium Systems


Zug, George, Vitt, Laurie J, and Janalee P. Caldwell (2001)

Herpetology: An Introductory Biology of Amphibians and Reptiles

, Academic Press.